Earlier this week, Realtor.com released their report of the top 10 hottest zip codes in the US. Realtor.com analyzed data from the first 6 months of 2015 and, not surprisingly, one of Northwest Austin's zip codes made the list. The study cited healthy local economics, job opportunities and affordability as top considerations for zip codes on their list.

Texas Was Best Performing State in the US
Texas took three of the top ten spots, the only state to have more than one city on the list. With the booming Texas economy, sustainable job growth and population explosion, Texas has gotten a lot of attention lately. It is definitely one of the reasons more and more people from coastal states are moving to Texas< and loving it.
What Did the Hottest Zip Codes Have in Common?
The zip codes on the top 10 hottest zip codes in the US had the following things in common:
Supply and demand about 5% higher than the rest of the country
Median household income at least 20% higher than surrounding cities
32% share of households with an income of $100k or more, ⅓ higher than national average
Neighborhoods provide favorable conditions for Millennials purchasing homes
You'll notice, these aren't zip codes with the highest prices in the US. Rather, these are zip codes where home buyers make a good living, can afford to buy a home and still have money left over for doing things they like. Homeowners are able to build wealth and still enjoy a high quality of life.
78729 Lands Top 10 Hottest Zip Codes in the US List
Citing prime access to the top Austin's tech employers like Apple, IBM, Dell and eBay, highly rated Round Rock ISD schools and homes affordable to Millennials (25-34 year olds), 78729 came in at #8 of the top 10 hottest zip codes in the US. With a population of 26,906, median income for Millennials of $73,000 (40% higher than the US average Millennial household income), share of $100k+ households expected to grow 23% by 2020 and a Millennial population of 23% (75% higher than the US average), 78729 is poised for growth and wealth.
Where is 78729?
Northwest Austin's 78729 zip code is roughly bordered by 45 to the north, 183 to the east, McNeil Dr to the South and McNeil Round Rock Road to the west. Here is the map, with the zip code shaded in red.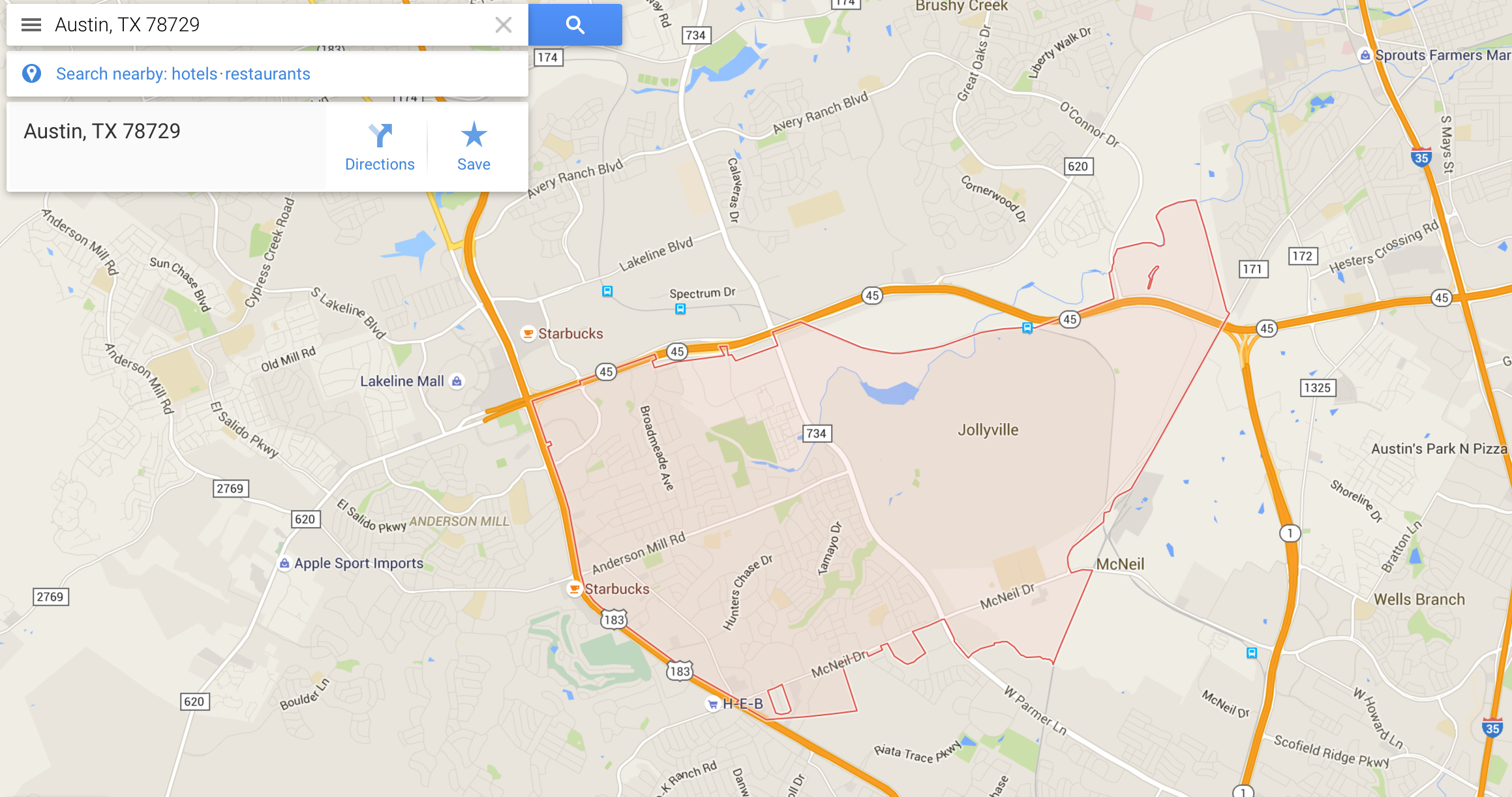 Top 10 Hottest Zip Codes in the US
Which other US cities made the list? Below you'll find the entire Top 10 Hottest Zip Codes in the US list.
02176: Melrose, Mass.
43085: Columbus, Ohio (Worthington)
80122: Littleton, Colo. (Centennial)
75023: Plano, Texas
48375: Novi, Mich.
78247: San Antonio, Texas
63126: St. Louis (Crestwood)
78729: Austin, Texas
58103: Fargo, N.D.
92010: Carlsbad, Calif.
For more info about the list, check out the Realtor.com article here.
Popular Neighborhoods in 78729
Looking to take advantage of affordable living near Austin's biggest tech employers? Here are the biggest and most popular neighborhoods in 78729.
Homes for Sale in 78729
Considering Buying a Home in 78729?
With over $200MM of real estate sold and a combined 58+ years of experience, there is virtually nothing we haven't seen or can't handle. We also know the Austin area better than any Realtor in Austin and can help you find the best home for you and your family. For more info about our team and how we work, check out our Austin Home Buyers page. Then, call us at (512) 827-8323, email us at info@11OaksRealty.com or fill out our Buyer Survey to schedule a no obligation consultation.
How Much is Your 78729 Home Worth?
Own a home in 78729 that you are considering selling? Use our 78729 Market Snapshot tool to give you an idea as to how much your home is worth. This tool also works for any home in the Austin metro area, so if you are looking to sell your Austin home to move to 78729, simply put in your address and we'll send you a report. While most online valuation estimates are based on unreliable public data, our Market Snapshot tool uses data Realtors use, so it is much more accurate. Need a more detailed estimate? Check out our Qualified Home Evaluation tool. Ready to talk to a Realtor? Fill out our Seller Survey or call us at (512) 827-8323 to schedule a no obligation consultation.